Projects
to support continued monitoring of sediment accretion and elevation change in the Quinnipiac marshes, and to support a marsh organ experiment to assess whether soil toxicity is contributing to marsh submergence
Year Issued:
2015
| Amount: $12,300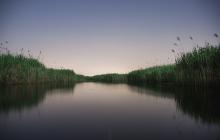 Yale School of Forestry & Environmental Studies
Contact Information
Dr. Shimon Anisfeld
shimon.anisfeld@yale.edu
http://environment.yale.edu/profile/anisfeld/multimedia
To raise awareness among legislators, homeowners, and the general public about ways to reduce both non-point and point sources of pollution and to improve habitat for birds and other wildlife within the Quinnipiac River Watershed.
Year Issued:
2011
| Amount: $10,000
To continue monitoring vegetation change and mudflat development in the Quinnipiac River brackish marshes, and begin to test hypothesized causes for the observed wetland loss.  To complete a nitrogen and trace metal analyses and begin to assess how marsh loss has affected the load of pollutants to the river.
Year Issued:
2003
| Amount: $13,000
Yale School of Forestry/Environmental Studies