Projects
To support the establishment of bird nest boxes at multiple locations in the Quinnipiac River watershed and monitor the ecology of songbirds that breed in the watershed.
Year Issued:
2018
| Amount: $11,500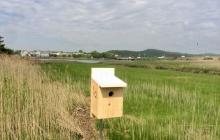 Contact Information
Dr. Scott Davies
Scott.Davies@quinnipiac.edu
www.qu.edu
To support the review of Cytec's National Pollutant Discharge Elimination System (NPDES) water permit for discharges into the Quinnipiac River and see if there have been any violations of their permit during this year or during the past 5 years.
Year Issued:
2012
| Amount: $2,000
Connecticut Urban Legal Initiative, Inc.
To test the hypothesis that Cytec is discharging into the Quinnipiac a large amount ot polymeric formaldehyde which a) has not been accounted for in the permitting process; b) becomes bioavailable over time; c) has great potential to accumulate in sediments and organisms.
Year Issued:
2000
| Amount: $140,000
Yale School of Forestry/Environmental Studies