Projects
to support installing and improving public access to the Quinnipiac River in conjunction with Phase III of the Quinnipiac River Linear Trail Project in collaboration with the Quinnipiac River Linear Trail Advisory Committee.
Year Issued:
2014
| Amount: $10,179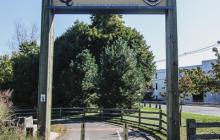 Southwest Conservation District
Contact Information
Roman Mrozinski
swcd43rsm@sbcglobal.net
http://conservect.org/Default.aspx?alias=conservect.org/southwest
To support the Safe Grounds Campaign to reduce and ultimately eliminate the use of toxic lawn pesticides in the Quinnipiac River watershed and throughout Connecticut.
Year Issued:
2012
| Amount: $20,000
The Watershed Partnership, Inc.
To classify and assess shellfish growing water for the Quinnipiac River and New Haven Harbor.
Year Issued:
1993
| Amount: $5,160
CT Dept. of Agriculture/Aquaculture Division