Projects
To support educational programming and volunteer events at the Quinnipiac Meadows and Long Wharf Nature Preserves and as well as to support the process of acquiring land adjacent to Quinnipiac Meadows.
Year Issued:
2017
| Amount: $16,000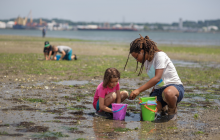 New Haven Land Trust, Inc.
Contact Information
Justin Elicker
justin.elicker@newhavenlandtrust.org
www.newhavenlandtrust.org
Funds are requested to support the convening of a bio blitz on August 22nd to provide a list of species found in the preserve during one 24-hour period.
Year Issued:
2008
| Amount: $0
New Haven Land Trust, Inc
To document the macrobenthic structure of the lower Quinnipiac River as an "ecological benchmark" against future changes.
Year Issued:
1994
| Amount: $4,739
Southern Connecticut State University