Projects
To support a Public Works Department pilot program to retrofit hooded outlet protection on ten existing stormwater catch basins that are in stormwater systems that outlet to the Quinnipiac River or one of its tributaries.
Year Issued:
2019
| Amount: $3,000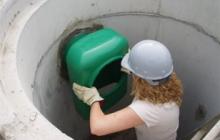 Contact Information
Emile Pierides
epierides@meridenct.gov
www.meridenct.gov/government/departments/public-works/
To educate New Haven's youth about the natural and social systems that affect the Quinnipiac River.  To design and execute a community service action project that addresses an issue for youth to identify and teach what they have learned and accomplished to others; thereby building a constituency of urban advocates for the Quinnipiac River.  This project is called Kids Explore!, Kids Do!, Kids Teach!
Year Issued:
2003
| Amount: $8,000