Projects
To support a Public Works Department pilot program to retrofit hooded outlet protection on ten existing stormwater catch basins that are in stormwater systems that outlet to the Quinnipiac River or one of its tributaries.
Year Issued:
2019
| Amount: $3,000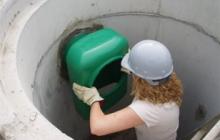 Contact Information
Emile Pierides
epierides@meridenct.gov
www.meridenct.gov/government/departments/public-works/
Funds are requested to support the implementation of landowner and youh education about reducing non-point pollution.
Year Issued:
2008
| Amount: $20,000
Quinnipiac River Watershed Association
To research and analyze the issue of river pollution by landfill leacheates in the Quinnipiac Watershedd, to plan Y begin implementation of "stream team" bio-assessment in two watershed sub-basins, & to improve office as a resource center.
Year Issued:
1997
| Amount: $5,000
Quinnipiac River Watershed Association