Projects
To support the recruitment and training of a permits observer corps to monitor local land use commissions and screen for testimony local land use permits, as well as assist in monitoring of state level permits affecting water quality.
Year Issued:
2019
| Amount: $15,000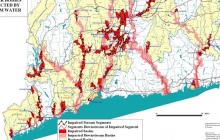 River Advocates of South Central CT
Contact Information
Mary Mushinsky
marymushinsky@att.net
www.riveradvocatesscct.org
To support a Public Works Department pilot program to retrofit hooded outlet protection on ten existing stormwater catch basins that are in stormwater systems that outlet to the Quinnipiac River or one of its tributaries.
Year Issued:
2019
| Amount: $3,000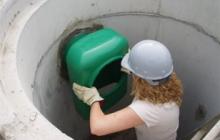 Contact Information
Emile Pierides
epierides@meridenct.gov
www.meridenct.gov/government/departments/public-works/
To support Lunch and Learn sessions for municipal department of public works crews in the lower Quinnipiac watershed for best practices in stormwater pollution prevention; enforcement of public access site at Little River, a Quinnipiac tributary at Lowe's on Route 80 in New Haven; education of phosphorus control; and monitoring of pollution and diversion permits.
Year Issued:
2017
| Amount: $10,000
River Advocates of South Central CT
Contact Information
Mary Mushinsky
marymushinsky@att.net
www.riveradvocatesSCCT.org