Projects
to support the continuation of investigating the compliance history and indirect discharges of publically owned treatment works on the Quinnipiac River.
Year Issued:
2014
| Amount: $6,000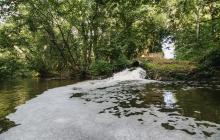 Connecticut Urban Legal Initiative, Inc.
Contact Information
Attorney Alan Kosloff
alan.kosloff@law.uconn.edu
www.culi-law.org/
To sample and analyze food fish from the Quinnipiac and Mill Rivers for toxic organic and inorganic contaminants.
Year Issued:
1997
| Amount: $7,000
Connecticut Agricultural Experiment Station