Projects
To support the purchase of additional benches along Phase III of the trail which will add 1.25 miles to Fireworks Island as well as graphic art designs for the informational sign to showcase history, natural history, and location information.
Year Issued:
2016
| Amount: $5,000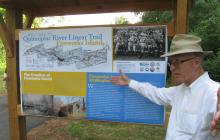 Quinnipiac River Linear Trail Advisory Committee
Contact Information
Mary Mushinsky
marymushinsky@att.net
www.town.wallingford.ct.us/Content/Quinnipiac_River_Linear_Trail_Advisory_Committee.asp
To evaluate road salt management and application practices; correlate problems and recommend future action.
Year Issued:
1994
| Amount: $5,000
New Haven County Soil & Water Conservation Di
To classify and assess shellfish growing water for the Quinnipiac River and New Haven Harbor.
Year Issued:
1993
| Amount: $5,160
CT Dept. of Agriculture/Aquaculture Division