Projects
To support the purchase of additional benches along Phase III of the trail which will add 1.25 miles to Fireworks Island as well as graphic art designs for the informational sign to showcase history, natural history, and location information.
Year Issued:
2016
| Amount: $5,000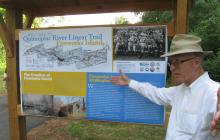 Quinnipiac River Linear Trail Advisory Committee
Contact Information
Mary Mushinsky
marymushinsky@att.net
www.town.wallingford.ct.us/Content/Quinnipiac_River_Linear_Trail_Advisory_Committee.asp
To continue the work the Fair Haven community has done towards cleaning, maintaining and planning for an eco-sensitive Quinnipiac River Park.
Year Issued:
2002
| Amount: $10,000
Elm City Parks Conservancy
To educate the community about the effects of pollution, to increase access to the Quinnipiac River, to empower the residents to right environmental wrongs and to enhance appreciation for parkland and its preservation.
Year Issued:
2003
| Amount: $8,000
Elm City Parks Conservancy