Projects
To support environmental advocacy, particularly through raising awareness of new federal phosphorus requirements for the lower Quinnipiac River.
Year Issued:
2013
| Amount: $15,000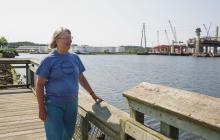 Mill River Watershed Association of South Central Connecticut Inc.
Contact Information
Cordalie Benoit
cordalie.benoit@aya.yale.edu
To support the continuation of homeowner workshops which will initiate educational outreach on organic land care to inland/wetland and conservation commissions, including installation and assisting in the development and related outreach of an online turf forum geared towards Connecticut school groundskeepers.
Year Issued:
2011
| Amount: $6,000
Northeast Organic Farming Association of Connecticut, Inc.