Projects
To support curriculum development and implementation assistance for the design and installation of bioswales and native plant/pollinator gardens at Lincoln Middle School and Washington Middle School in Meriden.
Year Issued:
2018
| Amount: $15,000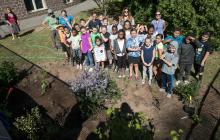 Connecticut Audubon Society
Contact Information
Patrick Comins
pcomins@ctaudubon.org
www.ctaudubon.org
Funds will be used to support the improvement of of water diversion and instream flow policy on the Quinnipiac River through advocacy and public education.
Year Issued:
2006
| Amount: $10,000
Trout Unlimited: Eastern Water Project
Funds are requested to support the publishing of six in-depth stories including 240 photographs about the Quinnipiac River and its surrounding environment.
Year Issued:
2008
| Amount: $3,000
Fair Haven Housing Initiative/Grand News