Projects
to support An Urban Wildlife Refuge in Fair Haven: Community-based land stewardship to benefit wildlife and waterways project in partnership with Audubon Connecticut, community greenspace groups and the local business community.
Year Issued:
2014
| Amount: $12,000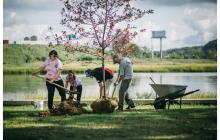 Urban Resources Initiative
Contact Information
Colleen Murphy-Dunning
colleen.murphy-dunning@yale.edu
www.urbanresourcesinitiative.org
To retain services to photograph the Quinnipiac River from New Haven to Wallingford.  The photos will be used by RGP, Yale University Coastal and Watershed Study Center, and the University of New Haven for academic, economic development and planning purposes.  The parties will be using the information for public education about the marshes and the interrelationships with the marsh.  RGP will be utilizing the photos to assist in the implementation of the Quinnipiac River Conservation and Development Corridor project (QRCDC).
Year Issued:
2001
| Amount: $3,000
Regional Growth Partnership