Projects
to support the continuation of investigating the compliance history and indirect discharges of publically owned treatment works on the Quinnipiac River.
Year Issued:
2014
| Amount: $6,000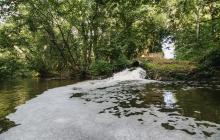 Connecticut Urban Legal Initiative, Inc.
Contact Information
Attorney Alan Kosloff
alan.kosloff@law.uconn.edu
www.culi-law.org/
To support the review of Cytec's National Pollutant Discharge Elimination System (NPDES) water permit for discharges into the Quinnipiac River and see if there have been any violations of their permit during this year or during the past 5 years.
Year Issued:
2012
| Amount: $2,000
Connecticut Urban Legal Initiative, Inc.
To retain services to photograph the Quinnipiac River from New Haven to Wallingford.  The photos will be used by RGP, Yale University Coastal and Watershed Study Center, and the University of New Haven for academic, economic development and planning purposes.  The parties will be using the information for public education about the marshes and the interrelationships with the marsh.  RGP will be utilizing the photos to assist in the implementation of the Quinnipiac River Conservation and Development Corridor project (QRCDC).
Year Issued:
2001
| Amount: $3,000
Regional Growth Partnership