Projects
to support the study of the effects of endocrine disrupting chemicals in wild fish within the freshwater regions of the Quinnipiac River watershed.
Year Issued:
2015
| Amount: $10,600
University of New Haven, Department of Biology & Environmental Science
Contact Information
Dr. John Kelly
jkelly@newhaven.edu
http://www.newhaven.edu/4486/academic-departments/biology-environmental-science/
to support the continuation of investigating the compliance history and indirect discharges of publically owned treatment works on the Quinnipiac River.
Year Issued:
2014
| Amount: $6,000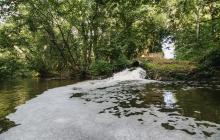 Connecticut Urban Legal Initiative, Inc.
Contact Information
Attorney Alan Kosloff
alan.kosloff@law.uconn.edu
www.culi-law.org/