Projects
To support the creation of 360 degree panoramic images along the Quinnipiac River and its passive recreation trails which will be viewable in an interactive Google maps 3D GIS whole earth model with newly created geolocated panoramic orbs.
Year Issued:
2018
| Amount: $5,000
North Guilford Studios, Inc.
Contact Information
Nicholas Berkun
nberkun@ngs-inc.org
www.ngs-inc.org
To support curriculum development and implementation assistance for the design and installation of bioswales and native plant/pollinator gardens at Lincoln Middle School and Washington Middle School in Meriden.
Year Issued:
2018
| Amount: $15,000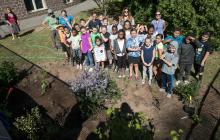 Connecticut Audubon Society
Contact Information
Patrick Comins
pcomins@ctaudubon.org
www.ctaudubon.org