Projects
To support educational programming and volunteer events at the Quinnipiac Meadows and Long Wharf Nature Preserves and as well as to support the process of acquiring land adjacent to Quinnipiac Meadows.
Year Issued:
2017
| Amount: $16,000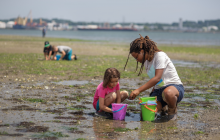 New Haven Land Trust, Inc.
Contact Information
Justin Elicker
justin.elicker@newhavenlandtrust.org
www.newhavenlandtrust.org
Funds are requested to support the convening of a bio blitz on August 22nd to provide a list of species found in the preserve during one 24-hour period.
Year Issued:
2008
| Amount: $0
New Haven Land Trust, Inc
To test the hypothesis that Cytec is discharging into the Quinnipiac a large amount ot polymeric formaldehyde which a) has not been accounted for in the permitting process; b) becomes bioavailable over time; c) has great potential to accumulate in sediments and organisms.
Year Issued:
2000
| Amount: $140,000
Yale School of Forestry/Environmental Studies