Projects
to support training 3 municipal department of public works crews in stormwater pollution prevention using Lunch and Learn sessions and to support investigating the lower Quinnipiac River public access potential at two locations: Lowe's on Route 80 in New Haven and behind Toelles Road businesses in Wallingford, adjacent to Quinnipiac River State Park. Mill River Watershed Association of South Central Connecticut, Inc. is acting as the fiscal sponsor.
Year Issued:
2015
| Amount: $5,000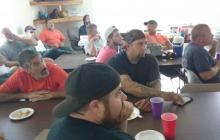 River Advocates of Greater New Haven, Inc.
Contact Information
Mary Mushinsky
marymushinsky@att.net
to support the improvement of public access to the Quinnipiac River by clearing, cleaning up, and maintaining the Blue Trail along the river's west bank in the Quinnipiac River State Park.
Year Issued:
2015
| Amount: $10,000
North Haven Trail Association
Contact Information
Mr. Steve Fontana
safontana@aol.com
www.northhaventrails.org
to support educational programming, installing educational signs, organizing volunteer events and beginning research into potential acquisition of land surrounding the Quinnipiac Meadows/Eugene B. Fargeorge Nature Preserve.
Year Issued:
2015
| Amount: $10,000
New Haven Land Trust, Inc.
Contact Information
Mr. Justin Elicker
justin.elicker@newhavenlandtrust.org
www.newhavenlandtrust.org