Projects
To support educational programming and volunteer events at the Quinnipiac Meadows and Long Wharf Nature Preserves and as well as to support the process of acquiring land adjacent to Quinnipiac Meadows.
Year Issued:
2017
| Amount: $16,000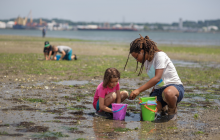 New Haven Land Trust, Inc.
Contact Information
Justin Elicker
justin.elicker@newhavenlandtrust.org
www.newhavenlandtrust.org
to support the Be the Solution to Pollution project which raises awareness of how pollution threatens the health of humans, animals, and the environment along the Quinnipiac River.
Year Issued:
2015
| Amount: $13,000
Connecticut Coalition for Environmental Justice
Contact Information
Ms. Sharon Lewis
sharonelewis2001@aol.com
www.environmental-justice.org