Projects
To support the purchase of additional benches along Phase III of the trail which will add 1.25 miles to Fireworks Island as well as graphic art designs for the informational sign to showcase history, natural history, and location information.
Year Issued:
2016
| Amount: $5,000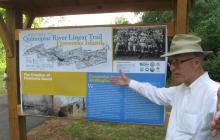 Quinnipiac River Linear Trail Advisory Committee
Contact Information
Mary Mushinsky
marymushinsky@att.net
www.town.wallingford.ct.us/Content/Quinnipiac_River_Linear_Trail_Advisory_Committee.asp
To support the creation and development of the Organic Land and Turf Handbook for school, municipal, and commercial groundskeepsers to manage lawns and turf without the use synthetic fertilizers and pesticides.
Year Issued:
2006
| Amount: $14,000
Connecticut Northeast Organic Farmers Organization
Funds are requested to support the implementation of an intensive workshops to teach 100 Connecticut school groundskeepers how to mamnage fields without the use of harmful pesticides.
Year Issued:
2008
| Amount: $6,530
Connecticut Northeast Organic Farmers Organization