Projects
to support cleaning logs and debris from a blocked access for boats in the Quinnipiac River.
Year Issued:
2020
| Amount: $3,650
Southwest Conservation District
Contact Information
Chris S. Sullivan
CSullivan@conservect.org
https://conservect.org/southwest/
To support the purchase of additional benches along Phase III of the trail which will add 1.25 miles to Fireworks Island as well as graphic art designs for the informational sign to showcase history, natural history, and location information.
Year Issued:
2016
| Amount: $5,000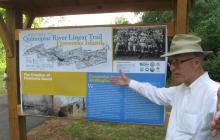 Quinnipiac River Linear Trail Advisory Committee
Contact Information
Mary Mushinsky
marymushinsky@att.net
www.town.wallingford.ct.us/Content/Quinnipiac_River_Linear_Trail_Advisory_Committee.asp
to support the Be the Solution to Pollution project which raises awareness of how pollution threatens the health of humans, animals, and the environment along the Quinnipiac River.
Year Issued:
2015
| Amount: $13,000
Connecticut Coalition for Environmental Justice
Contact Information
Ms. Sharon Lewis
sharonelewis2001@aol.com
www.environmental-justice.org