Projects
To support environmental advocacy, particularly through raising awareness of new federal phosphorus requirements for the lower Quinnipiac River.
Year Issued:
2013
| Amount: $15,000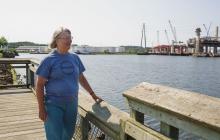 Mill River Watershed Association of South Central Connecticut Inc.
Contact Information
Cordalie Benoit
cordalie.benoit@aya.yale.edu
Complete three hydrographic dye dilution studies of the Wastewater Pollution Control Facilities.
Year Issued:
1994
| Amount: $7,000
CT Dept. of Agriculture/Aquaculture Division
To classify and assess shellfish growing water for the Quinnipiac River and New Haven Harbor.
Year Issued:
1993
| Amount: $5,160
CT Dept. of Agriculture/Aquaculture Division