Projects
To support the establishment of bird nest boxes at multiple locations in the Quinnipiac River watershed and monitor the ecology of songbirds that breed in the watershed.
Year Issued:
2018
| Amount: $11,500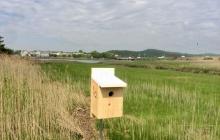 Contact Information
Dr. Scott Davies
Scott.Davies@quinnipiac.edu
www.qu.edu
Complete three hydrographic dye dilution studies of the Wastewater Pollution Control Facilities.
Year Issued:
1994
| Amount: $7,000
CT Dept. of Agriculture/Aquaculture Division
To classify and assess shellfish growing water for the Quinnipiac River and New Haven Harbor.
Year Issued:
1993
| Amount: $5,160
CT Dept. of Agriculture/Aquaculture Division