Projects
to support An Urban Wildlife Refuge in Fair Haven: Community-based land stewardship to benefit wildlife and waterways project in partnership with Audubon Connecticut, community greenspace groups and the local business community.
Year Issued:
2014
| Amount: $12,000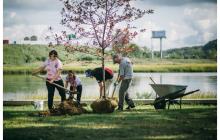 Urban Resources Initiative
Contact Information
Colleen Murphy-Dunning
colleen.murphy-dunning@yale.edu
www.urbanresourcesinitiative.org
Complete three hydrographic dye dilution studies of the Wastewater Pollution Control Facilities.
Year Issued:
1994
| Amount: $7,000
CT Dept. of Agriculture/Aquaculture Division
To classify and assess shellfish growing water for the Quinnipiac River and New Haven Harbor.
Year Issued:
1993
| Amount: $5,160
CT Dept. of Agriculture/Aquaculture Division