Projects
To support the reviewing of discharge monitoring report compliance histories of five publically owned treatment works discharging to the Quinnipiac River.
Year Issued:
2013
| Amount: $3,000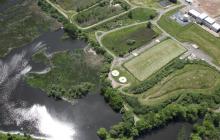 University of Connecticut's Energy & Environmental Law Practice Clinic
Contact Information
Alan Kosloff
akosloff@kosloff.net
http://www.law.uconn.edu/academics/centers/center-energy-enviromental-law
Complete three hydrographic dye dilution studies of the Wastewater Pollution Control Facilities.
Year Issued:
1994
| Amount: $7,000
CT Dept. of Agriculture/Aquaculture Division
To classify and assess shellfish growing water for the Quinnipiac River and New Haven Harbor.
Year Issued:
1993
| Amount: $5,160
CT Dept. of Agriculture/Aquaculture Division