Projects
to support installing and improving public access to the Quinnipiac River in conjunction with Phase III of the Quinnipiac River Linear Trail Project in collaboration with the Quinnipiac River Linear Trail Advisory Committee.
Year Issued:
2014
| Amount: $10,179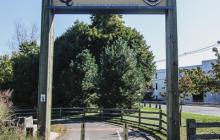 Southwest Conservation District
Contact Information
Roman Mrozinski
swcd43rsm@sbcglobal.net
http://conservect.org/Default.aspx?alias=conservect.org/southwest
Funds are requested to support implementation of informational and educational efforts and activities advocating for pesticide use reduction. These efforts will focus on the 80 property owners whose properties abut the Quinnipiac River in Plainville, CT. The activities will include 2 river clean-ups, coordination of a fishing derby, Earth Day Extravaganza, promotion and advocacy of Freedom Lawn Initiative, and a Tomasso Nature Park clean-up. (see grant notes)
Year Issued:
2007
| Amount: $2,000
Farmington River Watershed Association, Inc.
To classify and assess shellfish growing water for the Quinnipiac River and New Haven Harbor.
Year Issued:
1993
| Amount: $5,160
CT Dept. of Agriculture/Aquaculture Division