Projects
To support Lunch and Learn sessions for municipal department of public works crews in the lower Quinnipiac watershed for best practices in stormwater pollution prevention; enforcement of public access site at Little River, a Quinnipiac tributary at Lowe's on Route 80 in New Haven; education of phosphorus control; and monitoring of pollution and diversion permits.
Year Issued:
2017
| Amount: $10,000
River Advocates of South Central CT
Contact Information
Mary Mushinsky
marymushinsky@att.net
www.riveradvocatesSCCT.org
to support installing and improving public access to the Quinnipiac River in conjunction with Phase III of the Quinnipiac River Linear Trail Project in collaboration with the Quinnipiac River Linear Trail Advisory Committee.
Year Issued:
2014
| Amount: $10,179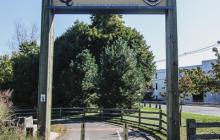 Southwest Conservation District
Contact Information
Roman Mrozinski
swcd43rsm@sbcglobal.net
http://conservect.org/Default.aspx?alias=conservect.org/southwest
To classify and assess shellfish growing water for the Quinnipiac River and New Haven Harbor.
Year Issued:
1993
| Amount: $5,160
CT Dept. of Agriculture/Aquaculture Division