Projects
To support an examination of the seasonal variation in the composition and quantity of microplastic particles from wastewater treatment facilities discharging treated wastewater into the Quinnipiac River.
Year Issued:
2019
| Amount: $16,000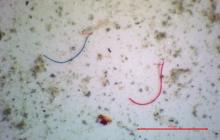 Southern Connecticut State University
Contact Information
Vincent Breslin
Breslinv1@southernct.edu
www.southernct.edu
To support funding for two aspects of the Quinnipiac River Conservation and Development corridor Project. RPG will develop an inter-municipal agreement between the three lower river communities that will include land-use guidelines and a tax sharing agreement.
Year Issued:
2005
| Amount: $8,000
Rex Development (formerly known as South Central CT Regional Econ. Develop. Corp)
To document the macrobenthic structure of the lower Quinnipiac River as an "ecological benchmark" against future changes.
Year Issued:
1994
| Amount: $4,739
Southern Connecticut State University
To continue research on the utilization of sunlight for the destruction of toxic water pollutants.
Year Issued:
1994
| Amount: $4,541
University of Connecticut, Dept. of Chemistry
To continue "Survey of Symbiotic Roots Showing Mycorrhizal Fungi on Tidal Riverine Vegetation in the Lower Quinnipiac River".
Year Issued:
1993
| Amount: $4,472
UNIVERSITY of CONNECTICUT DEPT. OF ECOLOGY
Year Issued:
1992
| Amount: $5,000
Contact Information
unavailable
Year Issued:
1992
| Amount: $5,000
University of Connecticut, Dept. of Chemistry
Contact Information
unavailable