Projects
To support an examination of the seasonal variation in the composition and quantity of microplastic particles from wastewater treatment facilities discharging treated wastewater into the Quinnipiac River.
Year Issued:
2019
| Amount: $16,000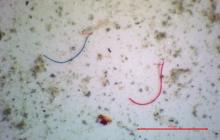 Southern Connecticut State University
Contact Information
Vincent Breslin
Breslinv1@southernct.edu
www.southernct.edu
To support the review of Cytec's National Pollutant Discharge Elimination System (NPDES) water permit for discharges into the Quinnipiac River and see if there have been any violations of their permit during this year or during the past 5 years.
Year Issued:
2012
| Amount: $2,000
Connecticut Urban Legal Initiative, Inc.