Projects
To support an examination of the seasonal variation in the composition and quantity of microplastic particles from wastewater treatment facilities discharging treated wastewater into the Quinnipiac River.
Year Issued:
2019
| Amount: $16,000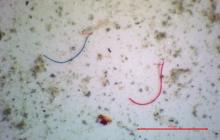 Southern Connecticut State University
Contact Information
Vincent Breslin
Breslinv1@southernct.edu
www.southernct.edu
To support the production of a student lead project of internet based-handheld computer field guides resources for the Quinnipiac River that calculates water quality data, geology, oysters, plants, macro-invertabrates, birds and oystering history.
Year Issued:
2004
| Amount: $4,995
To document the macrobenthic structure of the lower Quinnipiac River as an "ecological benchmark" against future changes.
Year Issued:
1994
| Amount: $4,739
Southern Connecticut State University