Projects
To support environmental advocacy, particularly through raising awareness of new federal phosphorus requirements for the lower Quinnipiac River.
Year Issued:
2013
| Amount: $15,000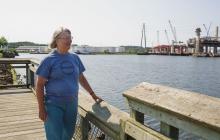 Mill River Watershed Association of South Central Connecticut Inc.
Contact Information
Cordalie Benoit
cordalie.benoit@aya.yale.edu
To support a short course in river processes to local environmental activists and municipal officials that will cover the basic hydrologic, geomorphic, chemical and biological processes that govern stream ecosystems and how they are perturbed by human activities.
Year Issued:
2004
| Amount: $7,390
Yale University Grant and Contract Administration
To support the implementation of a short course in river processes for environmental activists and decision-makers.
Year Issued:
2006
| Amount: $7,744
Yale University Grant and Contract Administration