Projects
To support an examination of the seasonal variation in the composition and quantity of microplastic particles from wastewater treatment facilities discharging treated wastewater into the Quinnipiac River.
Year Issued:
2019
| Amount: $16,000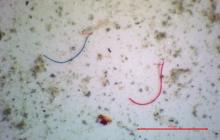 Southern Connecticut State University
Contact Information
Vincent Breslin
Breslinv1@southernct.edu
www.southernct.edu
To educate fishers on the safe consumption of fish from the Quinnipiac River and to work with the State Department of Environmental Protection to ensure fish signage is posted in fishing areas in common languages such as English, Spanish, Chinese, Kmer, Lao and Vietnamese.
Year Issued:
2010
| Amount: $13,000
Connecticut Coalition for Environmental Justice
To continue to educate fishers on safe consumption of fish by volunteers, bilingual safe fishing signage posted at river locales and by building grassroots support for a new state ban on lead fishing weights in the interest of fishers' and wildlife well-being.
Year Issued:
2011
| Amount: $5,000
Connecticut Coalition for Environmental Justice