Projects
To support an examination of the seasonal variation in the composition and quantity of microplastic particles from wastewater treatment facilities discharging treated wastewater into the Quinnipiac River.
Year Issued:
2019
| Amount: $16,000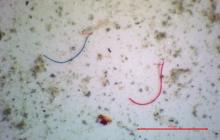 Southern Connecticut State University
Contact Information
Vincent Breslin
Breslinv1@southernct.edu
www.southernct.edu
to support outreach, education and advocacy of the current school lawn pesticide ban and activities associated with the expansion of the ban to include all Connecticut parks, playgrounds, municipal playing fields and town greens, as well as the enhancement of the organization's website.
Year Issued:
2014
| Amount: $20,000
The Watershed Partnership, Inc.
Contact Information
Jerry Silbert
WaterPartnership@SBCglobal.net
www.WatershedPartnership.org
To support the Safe Grounds Campaign to reduce and ultimately eliminate the use of toxic lawn pesticides in the Quinnipiac River watershed and throughout Connecticut.
Year Issued:
2012
| Amount: $20,000
The Watershed Partnership, Inc.