Projects
to support the study of the biodiversity of benthic algal communities and the potential for copper contamination in communities throughout the Quinnipiac River.
Year Issued:
2015
| Amount: $10,000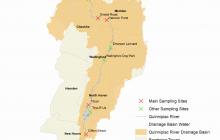 University of New Haven, Department of Biology & Environmental Science
Contact Information
Dr. Amy Carlile
acarlile@newhaven.edu
http://www.newhaven.edu/4486/academic-departments/biology-environmental-science/
To raise awareness among legislators, homeowners, and the general public about ways to reduce both non-point and point sources of pollution and to improve habitat for birds and other wildlife within the Quinnipiac River Watershed.
Year Issued:
2011
| Amount: $10,000
To document the macrobenthic structure of the lower Quinnipiac River as an "ecological benchmark" against future changes.
Year Issued:
1994
| Amount: $4,739
Southern Connecticut State University