Projects
To support an examination of the seasonal variation in the composition and quantity of microplastic particles from wastewater treatment facilities discharging treated wastewater into the Quinnipiac River.
Year Issued:
2019
| Amount: $16,000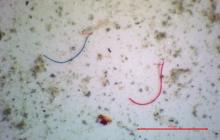 Southern Connecticut State University
Contact Information
Vincent Breslin
Breslinv1@southernct.edu
www.southernct.edu
To support the creation of 360 degree panoramic images along the Quinnipiac River and its passive recreation trails which will be viewable in an interactive Google maps 3D GIS whole earth model with newly created geolocated panoramic orbs.
Year Issued:
2018
| Amount: $5,000
North Guilford Studios, Inc.
Contact Information
Nicholas Berkun
nberkun@ngs-inc.org
www.ngs-inc.org