Projects
To support an examination of the seasonal variation in the composition and quantity of microplastic particles from wastewater treatment facilities discharging treated wastewater into the Quinnipiac River.
Year Issued:
2019
| Amount: $16,000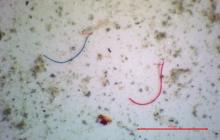 Southern Connecticut State University
Contact Information
Vincent Breslin
Breslinv1@southernct.edu
www.southernct.edu
To support a before and after pilot study of a residential neighborhood within the Quinnipiac River Watershed after it has participated in an education program that encourages the use of organic lawn care agents versus chemical lawn care agents.
Year Issued:
2004
| Amount: $20,000
Quinnipiac River Watershed Partnership
To document the macrobenthic structure of the lower Quinnipiac River as an "ecological benchmark" against future changes.
Year Issued:
1994
| Amount: $4,739
Southern Connecticut State University