Projects
to support the protection and care of the Quinnipiac Meadows and Long Wharf Nature Preserves, as well as to support efforts increase outreach programming, volunteer events and Schooner programs and to design and implement a Preserves Intern training program.
Year Issued:
2020
| Amount: $15,000
Contact Information
Brent Peterkin
brent@gathernewhaven.org
https://gathernewhaven.org/
To support an examination of the seasonal variation in the composition and quantity of microplastic particles from wastewater treatment facilities discharging treated wastewater into the Quinnipiac River.
Year Issued:
2019
| Amount: $16,000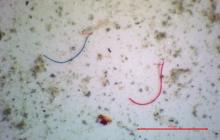 Southern Connecticut State University
Contact Information
Vincent Breslin
Breslinv1@southernct.edu
www.southernct.edu
To document the macrobenthic structure of the lower Quinnipiac River as an "ecological benchmark" against future changes.
Year Issued:
1994
| Amount: $4,739
Southern Connecticut State University