Projects
To support an examination of the seasonal variation in the composition and quantity of microplastic particles from wastewater treatment facilities discharging treated wastewater into the Quinnipiac River.
Year Issued:
2019
| Amount: $16,000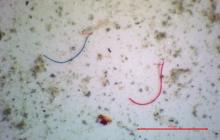 Southern Connecticut State University
Contact Information
Vincent Breslin
Breslinv1@southernct.edu
www.southernct.edu
To organize the community that live in NH QRiver section to learn about the river & establish a permanent advocacy group.
Year Issued:
1995
| Amount: $3,000
New Haven Urban Resources Initiative
To work directly with municipalities in the Quinnipiac river watershed not only to educate municipal officials, but also to follow up and help them improve municipal regulations that affect water quality in the Quinnipiac and watershed.  Primary target for this project are municipal CEO's, Planning and Zoning Commissions, Inland Wetland Commissions, and Town Councils.
Year Issued:
2003
| Amount: $10,000
Quinnipiac River Watershed Partnership
To reach out to businesses close to the Quinnipiac River to educate those who have not registered or are not in compliance with the commercial stormwater general permit.  This outreach will also engage businesses close to the river in voluntary programs of good stormwater management practices.
Year Issued:
2003
| Amount: $10,000
Quinnipiac River Watershed Partnership
To support a before and after pilot study of a residential neighborhood within the Quinnipiac River Watershed after it has participated in an education program that encourages the use of organic lawn care agents versus chemical lawn care agents.
Year Issued:
2004
| Amount: $20,000
Quinnipiac River Watershed Partnership
Funds are requested to collect water quality data to study the ecology of the Quinnipiac River and the New Haven Harbor and provider public education about the river.
Year Issued:
2008
| Amount: $7,160
To support the New Haven Harbor Data Project which will create and maintain an online catalog of data about New Haven Harbor and will be accessible on Schooner's website.
Year Issued:
2011
| Amount: $5,000
To support educational activities taking place on-board the schooner Quinnipiac that will connect students and teachers from upper watershed schools with students and teachers in lower watershed schools.
Year Issued:
2001
| Amount: $8,000
To document the macrobenthic structure of the lower Quinnipiac River as an "ecological benchmark" against future changes.
Year Issued:
1994
| Amount: $4,739
Southern Connecticut State University
Year Issued:
1992
| Amount: $5,000
Contact Information
unavailable