Projects
To support Lunch and Learn sessions for municipal department of public works crews in the lower Quinnipiac watershed for best practices in stormwater pollution prevention; enforcement of public access site at Little River, a Quinnipiac tributary at Lowe's on Route 80 in New Haven; education of phosphorus control; and monitoring of pollution and diversion permits.
Year Issued:
2017
| Amount: $10,000
River Advocates of South Central CT
Contact Information
Mary Mushinsky
marymushinsky@att.net
www.riveradvocatesSCCT.org
To support informational signage, as well as educational programs and printed materials about North Haven's Tidal Marsh Trail.
Year Issued:
2017
| Amount: $5,000
North Haven Trail Association
Contact Information
Steve Fontana
safontana@aol.com
www.northhaventrails.org
To support educational programming and volunteer events at the Quinnipiac Meadows and Long Wharf Nature Preserves and as well as to support the process of acquiring land adjacent to Quinnipiac Meadows.
Year Issued:
2017
| Amount: $16,000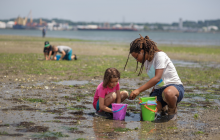 New Haven Land Trust, Inc.
Contact Information
Justin Elicker
justin.elicker@newhavenlandtrust.org
www.newhavenlandtrust.org