Projects
to support outreach, education and advocacy of the current school lawn pesticide ban and activities associated with the expansion of the ban to include all Connecticut parks, playgrounds, municipal playing fields and town greens, as well as the enhancement of the organization's website.
Year Issued:
2014
| Amount: $20,000
The Watershed Partnership, Inc.
Contact Information
Jerry Silbert
WaterPartnership@SBCglobal.net
www.WatershedPartnership.org
to support increasing capacity of the organization, sponsoring public events to focus attention on the lower Quinnipiac and urban rivers of Greater New Haven, and implementing certain recommendations from the Urban River Permits Project to reduce polluted runoff.
Year Issued:
2014
| Amount: $20,000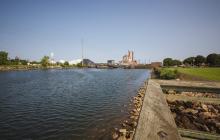 River Advocates of Greater New Haven, Inc.
Contact Information
Martin Mador
martin.mador@aya.yale.edu