Projects
to support training 3 municipal department of public works crews in stormwater pollution prevention using Lunch and Learn sessions and to support investigating the lower Quinnipiac River public access potential at two locations: Lowe's on Route 80 in New Haven and behind Toelles Road businesses in Wallingford, adjacent to Quinnipiac River State Park. Mill River Watershed Association of South Central Connecticut, Inc. is acting as the fiscal sponsor.
Year Issued:
2015
| Amount: $5,000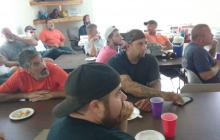 River Advocates of Greater New Haven, Inc.
Contact Information
Mary Mushinsky
marymushinsky@att.net
To educate New Haven's youth about the natural and social systems that affect the Quinnipiac River.  To design and execute a community service action project that addresses an issue for youth to identify and teach what they have learned and accomplished to others; thereby building a constituency of urban advocates for the Quinnipiac River.  This project is called Kids Explore!, Kids Do!, Kids Teach!
Year Issued:
2003
| Amount: $8,000
Funds are requested to support the implementation of landowner and youh education about reducing non-point pollution.
Year Issued:
2008
| Amount: $20,000
Quinnipiac River Watershed Association