Projects
To support informational signage, as well as educational programs and printed materials about North Haven's Tidal Marsh Trail.
Year Issued:
2017
| Amount: $5,000
North Haven Trail Association
Contact Information
Steve Fontana
safontana@aol.com
www.northhaventrails.org
To support start up staff to expand public access to rowing and other non-motorized watercraft, to grow participation in the annual dragon boat regatta, and to maintain a partnership with the University of New Haven, which will offer programs in environmental education to the general public.
Year Issued:
2017
| Amount: $15,000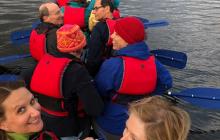 Canal Dock Boathouse, Inc.
Contact Information
John Pescatore
jpescatore11@gmail.com
www.canaldock.org